Altitude's half-day Glenorchy & Paradise Explorer tour is a 4-hour guided tour encompassing some of the most breathtaking scenery imaginable.
But in a place like Queenstown where all of the scenery is incredible, why choose THIS half day adventure? What does this tour have to offer? and why choose Altitude Tours?
Why visit Glenorchy & Paradise?
Let me start by saying that although Glenorchy & Paradise are beautiful destinations, it's as much about the journey as it is the final destination. The Glenorchy, and Glenorchy-Paradise Roads are littered with notable stops and beautiful vistas around every bend, making them worthy of their spot within the top 10 most scenic drives in the world!
Along the way, and in Glenorchy & Paradise themselves, there is an amazing diversity in the sights that this adventure has to offer. The winding river valleys of the Rees and Dart Rivers, the magical blue lakes, native beech forest, and green rolling fields speckled with sheep; all set amongst steep, rugged mountains that dwarf anything in sight. On a fine day you will even see the Earnslaw Glacier shining in the distance during a stop at the iconic Bennet's Bluff lookout.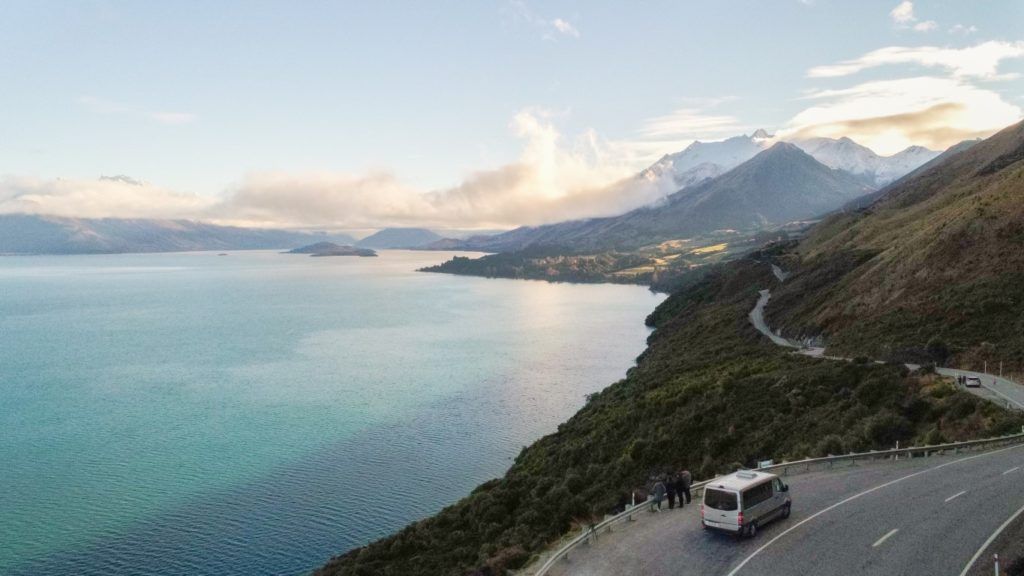 What more can we expect than incredible views?
With one of Altitude's local guides with you along the way, there is SO much more to discover on this half-day excursion.
The Glenorchy & Paradise region is most notably famous for being home to a selection of famous film shoot locations. With the help of your guide, you'll be able to imagine scenes from films such as the Lord of the Rings and X-men come to life before your eyes.
More than that, this area of New Zealand was once completely covered by glaciers! With the glaciers now having receded, there are amazing examples of glaciation to be seen everywhere you look. The area also has plenty of more recent history to offer a tourist wanting to know more about these charming locations.
You'll also have time to take in everything you've seen and learnt when stopping for morning or afternoon tea near Glenorchy. With a selection of tasty 'Kiwi' treats, you'll be feeling satisfied that you made the right decision to join Altitude's Glenorchy & Paradise Explorer tour.
Of course, what would an adventure be without a few iconic shots to take home and share with your friends and family. Pose by the big red shed at Glenorchy Wharf, prove you've truly been to Paradise with a picture by the iconic sign, or embrace your inner wizard by donning Gandalf's robe and stave! By the end of your four hours with Altitude you will be left marveling at how such a small part of New Zealand has so much to offer!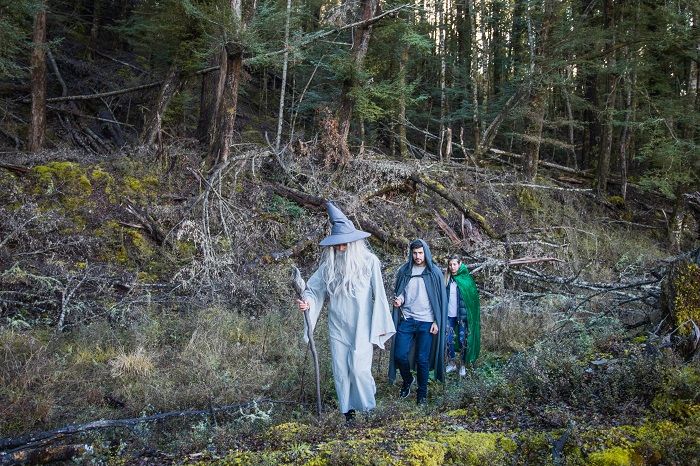 When is best to visit?
The Glenorchy & Paradise Explorer tour has something different to offer all year round. In spring see the newborn lambs frolic in the fields; in summer, enjoy the hot and sunny weather as you sip on an ice-cold L&P (a Kiwi favourite); in Autumn, enjoy the colour on the trees and breathe in the cool, crisp mountain air; and in Winter, don your layers, marvel at the sight of your breath in the winter air, and see the mountains blanketed with snow!
Why choose Altitude?
The answer to that is simple! Altitude are experts in providing epic small group travel. With their fleet of modern and comfortable Mercedes van you'll be travelling in style with one an awesome local guide.
Taking a personal approach to each tour, they'll make sure you get the most out of your half-day tour. Whether your a landscape lover, an avid Tolkienite, or simply an enthusiastic tourist looking to discover some of New Zealand's hidden gems – Altitude has something for everyone!
What should I bring?
An extra layer is always a good thing to bring along. The weather can change quickly and you want to be able to get out and enjoy the scenery regardless!
Your camera of course! You want want to forget your camera on this trip, trust me!
Comfortable shoes and clothing. There isn't a lot of walking involved so trainers aren't necessary, just wear whatever you'll be comfortable in.
Altitude's Glenorchy & Paradise Explorer departs daily from the Station Information Centre in central Queenstown at 9:00am and 2:00pm.
For more information on pricing, and what this tour has to offer visit the Glenorchy Tour page.