Sustainability is a subject that will be more and more topical in our industries, communities, and country. What many people don't consider is the importance of sustainability when enjoying a glass of Central Otago Pinot Noir. However, the team at Altitude Tours and Hawkshead are committed to the future and the environment we are fortunate enough to live, work and play in. So, sit back and sip your way sustainable with Hawkshead and Altitude Tours.
Let's start with the basics, sustainable wine making aims to have a process that protects the environment, supports local responsibility, maintains economic feasibility, and ultimately produces a high quality wine.
In short, the grapes are grown, harvested, and developed into a delightful drop while prioritising a multitude of environmental factors.
For Hawkshead, the allure of growing grapes and creating exquisite wines in Central Otago is all encompassing, but what Denis and Ulrike had real visions of was growing vines with minimal interference to the natural Central Otago environment. Being the founder of the NZ Nature Fund, Denis wants to see the wine industry more directly engaged in conservation and biodiversity. Preservation and protection of New Zealand's native species, flora and fauna is the driving force behind Hawkshead. The commitment to this dates back several generations, as you can clearly see this on their incredible labelling. The drawings of the birds are by Denis' great-grand father William J Swainson FLS FRS who settled in New Zealand 1841.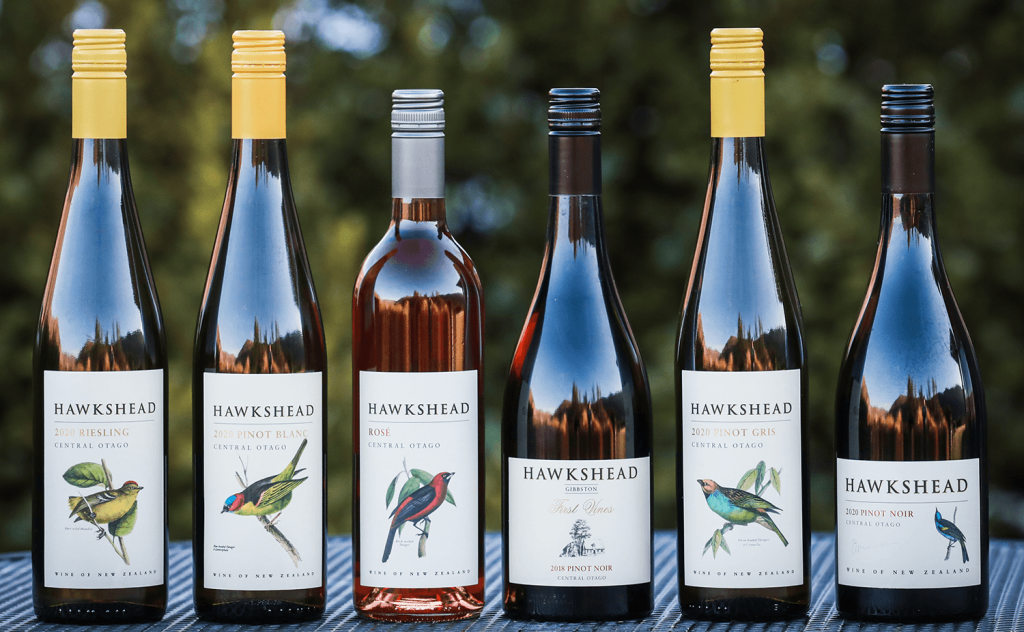 But Hawkshead are not stopping there, they are not only making their wine in a sustainable winery, they manage their vineyard in a sustainable and organic way. The majority of the vineyard work is meticulously carried out by hand in an uncompromising way. They 'meet' every vine many times during the growing season, this ensures plant health and good grapes at harvest time. All wines are hand crafted by Dean Shaw, Hawkshead Winemaker and those efforts are certainly not going unnoticed. Not only is hand-picking far gentler on the grapes, the ethos of hand-made follows into the winery, producing far more interesting and very individual wine.
The New Zealand Wine Industry has made a conscious effort to focus on being world leading when it comes to sustainable vineyards, and Hawkshead are relishing in this. This isn't just about sustainability and the impact this has on soil health and the surrounding environment. It is also about understanding the environmental considerations of a wine connoisseur in our global export markets, and how this effects their purchasing decisions.
The team at Altitude Tours and Hawkshead are committed to the future. They both have a mutual interest in protecting the environment, the outstanding Central Otago landscape and ensure they play their part in conservation. That's why they both run businesses that protect and conserve the natural, social, and cultural environment.
Next time you are considering a Central Otago Wine Tour, look no further than Altitude Tours, where you can sip your way sustainable with a Hawkshead Wine!