We are proud to showcase great New Zealand tourism companies and this month we are featuring Everything Queenstown, a New Zealand owned and operated online travel agent, selling the best tours and activities including you guessed it all of our Altitude experiences, we love these guys! 
Everything Queenstown is made up of adventure-loving travel experts who are passionate about going everywhere and doing everything. As a team, we have personally tried and tested the greatest activities and tours across New Zealand and Australia. That's why we have compiled this 2021 Insider's Guide to Queenstown's best activities for you to make your trip even more special.
Queenstown has a reputation as the adventure capital of New Zealand, and for good reason. It's surrounded by mountains, lakes, rivers and glaciers, all waiting to be explored, jumped off, cruised on… you get the idea. There are plenty of fantastic activities to try out in Queenstown! From swinging or jet boating through the Shotover Canyons, to wine tasting in the Gibbston region and cruising on Lake Wakatipu, it's hard not to find something that will excite your inner adventurer. So, let's jump into the 2021 insider's guide…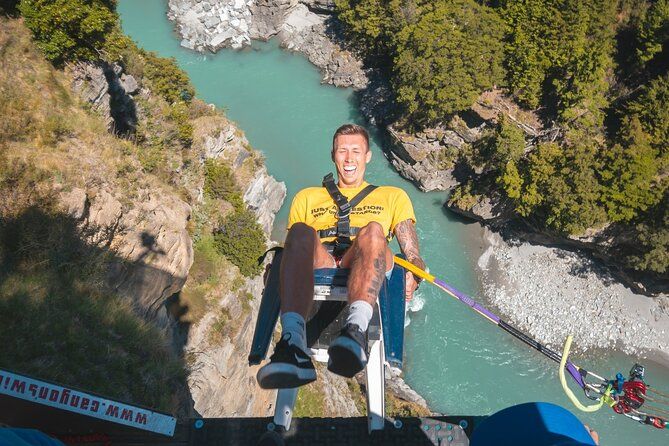 King of the Swingers (Giant Swings)
There's no better way to start than the all important adrenaline-junkie thrills. If you're visiting Queenstown, you are probably thinking about bungy jumping, giant swings or skydiving. These are huge bucket list activities and Queenstown is arguably the best place in the world to tick them off. 
For epic free falls, heaps of laughs and a big sense of achievement, we recommend getting off the beaten track and swinging over the Shotover River on the one and only Canyon Swing. Perched 109 metres above the mighty Shotover River, this is the world's highest cliff jump and it sure does make your head spin. The amazing Canyon Swing crew fit your harness and let you choose a jump style, before you launch off the platform for 60 metres of free fall and a smooth giant swing. 
There are so many jump styles to choose from that we've lost count, but our team at Everything Queenstown can personally vouch for the following: the slide, on a trike, back flip, Gimp goes to Hollywood (upside down), backwards, forwards, solo, tandem… That's right, we just loved it that much! 
Home of Jet Boating
Don't worry, we haven't forgotten about the original Queenstown adrenaline activity – Jet Boating! Commercial jet boating began in Queenstown back in 1960, and has been providing thrills for visitors ever since. Packed full of excitement, fun and great views, a jet boat tour is perfect for families and friends looking for a rush.
One of the most iconic Queenstown activities is the red Shotover Jet. This hair-raising 25 minute ride on the mighty Shotover River is 100% guaranteed to leave you breathless. 
But for those wanting to turn a Queenstown jet boat ride into an adventure, you can delve further up the Shotover River into the historic Skippers Canyon. Think gold mining history, Lord of the Rings, an epic 4×4 drive and jet boating through narrow canyons – all packed into one. Skippers Canyon Jet has everything you could possibly hope for in a Queenstown adrenaline activity, so what are you waiting for?
The Lady of the Lake
At this stage, we want to assure you that there is much more to Queenstown than 'just' the heart pounding adventure activities that everyone talks about. Undoubtedly one the best sightseeing tours in Queenstown, the TSS Earnslaw has probably made it onto your 'must-do' list. This 1912 steamship is a beautiful sight to behold as she makes her daily voyage across Lake Wakatipu to Walter Peak. But did you know, you can add a sprinkle of adventure to this trip?
Amp up the views and swap the first leg of your return cruise for a scenic flight over Wakatipu Basin. Air Milford have included Queenstown's most recognisable landmarks on this 20 minute flight, such as Coronet Peak, the Skyline Gondola, Bob's Peak (1748m) and the Earnslaw Glacier. 
Once landing at Walter Peak station, the afternoon is spent meeting its friendly residents on a High Country Farm Tour. Prepare to be licked by a beautiful highland cow, who is loved by families and all-visitors alike! Your return to Queenstown is via Lake Wakatipu on board the TSS Earnslaw, where you can step back in time and watch her coal-fired engine at work.
Wine Tasting
Last but not least, for a day of winding down amid mind-boggling scenery, our 2021 insider's guide wouldn't be complete without a trip to the Gibbston Wine Region. With over 10 wineries to choose from, our insider's tip is to let the locals show you the best spots for tasting world-class wines. Altitude Tours are a born and bred Queenstown business with a fundamental belief in small groups and big adventures. Only recently, their superb Wine Sampler tour was deemed the World's Best Wine Tour by TripAdvisor. And you really can't argue with that! 
There is something for everyone on the Wine Sampler tour. The local guides are informative, full of fun and love to share entertaining accolades as you travel through the Gibbston wine region in a luxury Mercedes. Treat your tastebuds to award winning pinot noir at 4 premium cellar doors, as well as diving deeper into New Zealand's largest underground wine cave. Whether you're a wine enthusiast or looking for a great day out with friends, we promise that a wine tour with Altitude Tours will be the best decision of your trip.
If you've enjoyed this 2021 insider's guide on how to make the most of your Queenstown holiday, or maybe you're after a little help getting off the beaten path, our local experts at Everything Queenstown are here to share their favourite activities. From wine touring through some of New Zealand's finest vineyards to finding unique adrenaline thrills, we can offer great advice and create a custom itinerary to suit you. Compare products on our Everything Queenstown website, and talk or live chat with us today.
Where will your next Queenstown adventure take you? We can't wait to find out!