Pinot Noir is the king of Central Otago grape varieties dominating with nearly 80% of plantings. Yet, Central Otago also produces some gorgeous other cold climate wines including Pinot Gris at number two in terms of plantings and then Chardonnay, Riesling, and Sauvignon Blanc.
Pinot Noir
One of the oldest grape varieties used in modern wine-making Pinot Noir is considered one of the 'regal grapes'. Hard to grow, yet if well made it produces silky smooth wines, deep in colour and powerful and complex in structure. Good viticultural processes such as controlling yield (see our pages on understanding viticulture) and good wine-making processes including selecting the right yeasts and controlling fermentation temperatures (see our pages on the vinification process) are rewarded with sumptuous results.
Young wines made with Pinot Noir display soft fruits such as strawberries, raspberries and cherries; and as they age we get lovely complex earthy aromas, spices and mushrooms.
The spiritual home of Pinot Noir is France's Burgundy region and in particular the slopes known as the Côte-d'Or – the golden slopes. Planted elsewhere in the world Central Otago rates up there for the quality of the wines produced from Pinot Noir along with Oregon and some parts of California (Sonoma County and Russian River Valley in particular).
The Pinot Noir grape has much thinner skins than fellow red/black grapes such as Cabernet Sauvignon or Syrah making them easier to ripen in cooler climates but also much more susceptible to fungal diseases such as rot and powdery mildew.
It has simultaneously been described as the "grape of the devil" (because of the challenges in growing it) and "sex in a glass" or "the most romantic of wines, with so voluptuous a perfume, so sweet an edge, and so powerful a punch that, like falling in love, they make the blood run hot and the soul wax embarrassingly poetic" (by Joel Fleischman of Vanity Fair).
On your Altitude tour you should be able to spot the Pinot Noir vines for their typically smaller leaves and tight small dark velvet almost black grapes.
For the wine anoraks out there you might want to know that in Central Otago growers have typically chosen the Pinot Droit clone – which is what gives the much darker coloured wines than in other regions in the world. Most importantly to some of us Pinot Noir is also one of the three grapes used in traditional Champagne (along with Chardonnay and Pinot Meunir) and is used today in Central Otago also toward many of the sparkling wines and Rosés.
Pinot Gris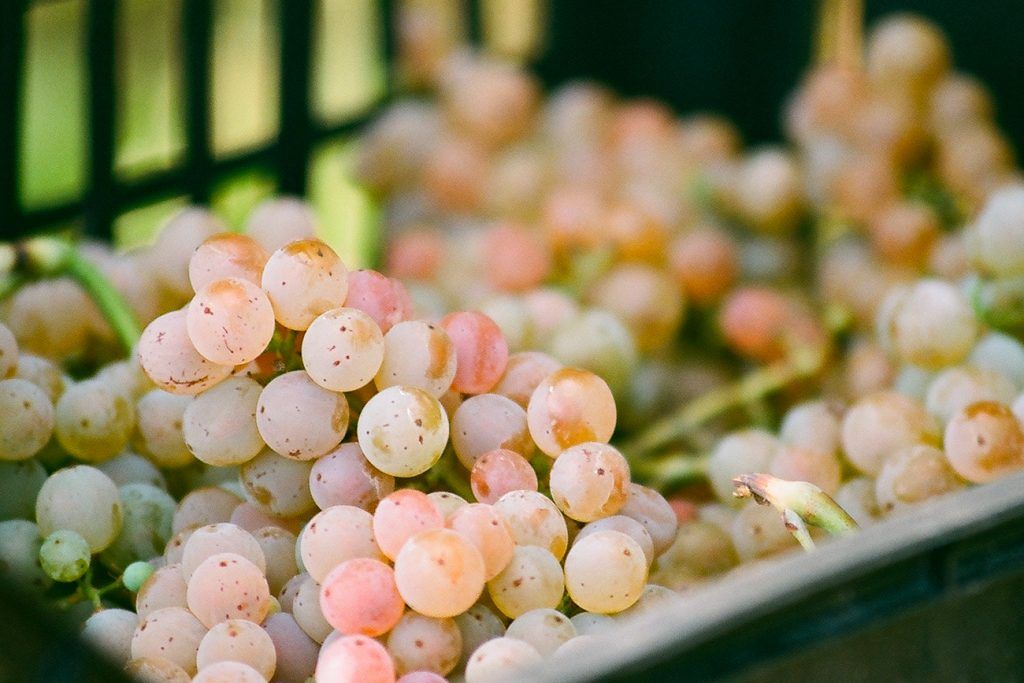 In second place not surprisingly is a wine very popular in everyday drinking in New Zealand – the Pinot Gris. The name being derived from it's greyish-blue fruit but also it's relationship to Pinot Noir. The grapes of Pinot Gris along with the Pinot Blanc and Pinot Meunir are actually mutations of the great Pinot Noir grape. The Pinot Noir grapes are particularly prone to mutating leading to hundreds of different clone varieties around the world.
If there is one pre-dominant characteristic about Pinot Gris is that it is fair to say that there is no dominant characteristic about a Pinot Gris wine. In the Alsace, in France, Pinot Gris are full bodied spicy wines; in Italy Pinot Grigio is a very light bodied high acidity wine and in Germany you will often find rich sweet wines made from the Grauburgunder (Grey Burgundy grape).
The variation on styles is caused by the relatively early ripening of the fruit with high sugar levels. The winemaker then decides on whether to leave some of that sweetness in the wine or to ferment the sugar completely away leaving a wine with higher alcohol levels – common in New Zealand. You will find the whole range of Pinot Gris styles in New Zealand but generally most will be drier than elsewhere in the world. If you get a chance try the Pinot Grigio made by Brennan Wines that uses the Italian style of more leaf coverage and earlier picking to create a more crisp and acidic wine. One of the appealing things for wine makers operating on tight budgets is that most Pinot Gris wines are drunk young and do not need to spend much time in bottle maturing. You will often see a Pinot Gris available for drinking only a few months after harvest.
One thing you may notice on tour late in the growing season is the variety of colours in the grapes within a single Pinot Gris bunch. There will be the characteristic blue-grey but also pink-grey, pink-brown and even white grapes can easily be spotted.
Chardonnay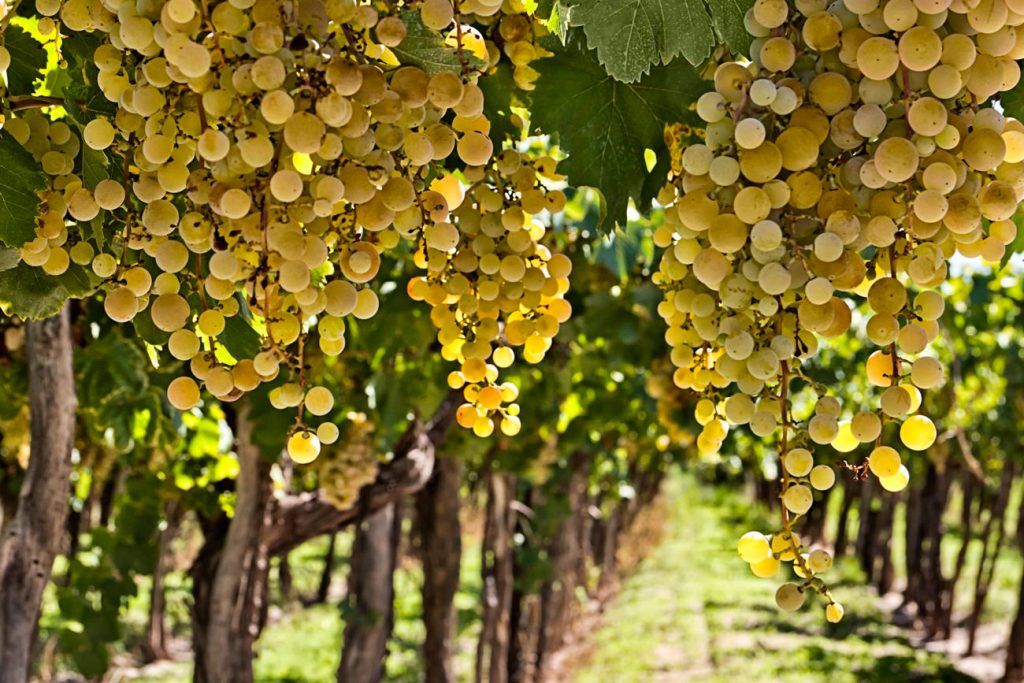 If Pinot Noir is the king of grapes, Chardonnay is the Queen. Chardonnay wines come in many forms including the crisp citrus mineral tastes of a Chablis wine to the buttery complex oak aged wines of Burgundy. It is also believed to be a descendant of a Pinot Noir cross with the ancient Gouais blanc grape from Croatia (it is hard to stay away from those good looking Eastern European grapes), and you will see the similarities with the Pinot Noir vines in the small leaves of the Chardonnay vine while on tour. Other similarities include the thinner skins (bad for disease) and early flowering (risk of late frosts).
Wines made from the Chardonnay grape change quiet a lot climate to climate. In the warmer north regions of New Zealand (Gisborne and Marlborough) you will taste citrus, peach and melon and in places like Australia and California you will get aromas of fig and tropical fruits or bananas. In Central Otago you are more likely to spot notes of green plum, apple and pear.
Growing Chardonnay in Central Otago is certainly much easier than Pinot Noir but it requires a very hands-on approach in the vineyard to produce top quality wine. The leaves and fruit will grow vigorously if not tamed causing the vines to spread the effort into growing across many bunches of grapes dissipating the flavour in each bunch (see our pages on understanding viticulture and green harvesting for how the grape growers restrict their yield). Chardonnay responds better when conditions are tough and the vines have to compete for minerals and water in the soils (perfect for the dusty well-drained Central Otago soils). You may see Chardonnay vines planted closer together than other varieties on your tour which further increases the competition between vines.
A wine-making process known as "Malolactic Fermentation" is common in the production of Chardonnay wines in New Zealand. In this process the winemaker converts the green-apple Lactic acids into more smooth buttery Malic acids through the introduction of bacterias. This buttery full mouth feel is very distinctive in New Zealand Chardonnays. In recent times however we have seen a consumer backlash against the big oak toast flavoured Chardonnays and today you will taste many interesting more Chablis like citrus styles often aged exclusively in stainless steel vats.
Sauvignon Blanc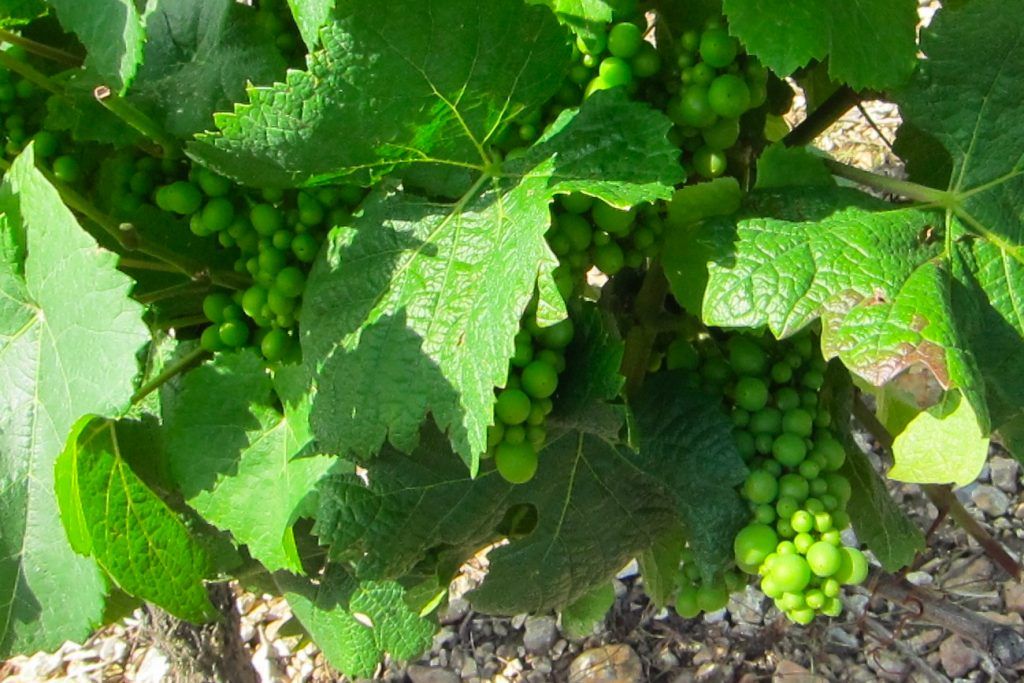 When travelling overseas and someone asks you where you are from and you say New Zealand the response is usually All Blacks, sailing and Sauvignon Blanc – not necessarily in that order! The green apple and lime Sauvignon Blanc wines are more than just world famous in New Zealand. Described as "cat's pee on a gooseberry bush on a hot summers day" pungent aromas of crisp green apples, nettles, green bell peppers, asparagus, minerals and gunflint immediately spring to mind. On the palate there is mouth watering acidity and a lovely dry finish. In warmer northern climates you will get more tropical fruit tastes and usually less aromas.
Although it was Marlborough at the top of the South Island which put New Zealand Sauvignon Blanc on the map Central Otago does produce some pretty top class versions too. The grape grows well in Central Otago as it buds late often avoiding late Spring frosts and then ripens early to make it much less susceptible to early Autumn frosts. The long dry summer and cooler evenings slow the ripening allowing it develop more balance and to enhance it's acidity that creates it's wonderful zingy flavour.
On your Altitude tour you will spot the Sauvignon Blanc grapes for the distinctively green skins. Only 10 or 15 years ago another very New Zealand distinction you would have noticed was the use of screw caps on the Sauvignon Blanc wine bottles. Now of course common practice or all types of wines throughout the world, New Zealand led the way globally on the use of screw caps on wine bottles. The decision being that Sauvignon Blanc wines are usually drunk young and do not age particularly well (the wines from the Loire Valley in France being an exception) and thus they are better suited to screw cap bottles which are less susceptible to picking up odours from cork taint.
The actual origins of the Sauvignon Blanc grape are a little unclear but arguably it's spiritual home is in the Loire Valley in France in the the regions of Sancere and Pouilly-Fumé and in Bordeaux where a micro-climate of early morning fog followed by dry hot days causes the skins of the grape to shrivel up with Botrytis (or Noble Rot). The grapes (along with the Sémillon grape) are then squeezed to deliver only a few drops of rich honey like nectar for what us plebs would call desert wine. At some stage the grape also got busy in Bordeaux with the naughty red grape Cabernet Franc in the next paddock and created the masterpiece Cabernet Sauvignon. For those from North America you will also know Sauvignon Blanc as Fume Blanc.
Did you know that Sauvignon Blanc is considered one of the only wines that pairs with sushi – and us Kiwis certainly love our sushi.
Riesling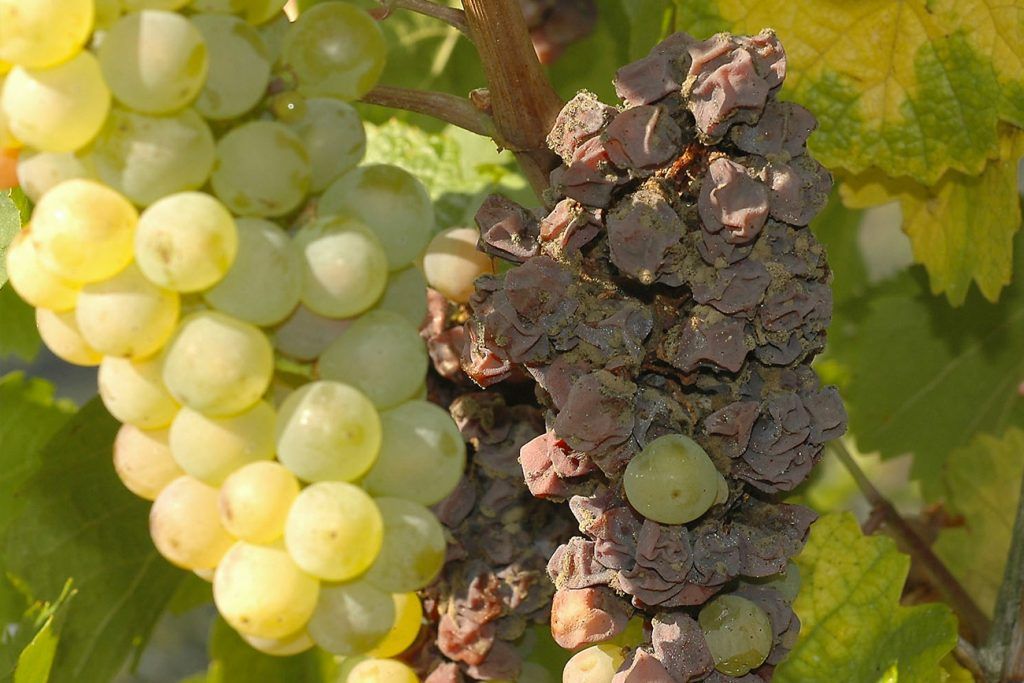 Originating from German the last grape variety on our comprehensive tours of Central Otago grapes is the noble Riesling grape. Like Pinot Gris, Riesling produces a wide range of styles but it is perhaps most well-known for it off-dry and sweet versions.
In particular, the very sweet versions grown in Germany from grapes effected with Botrytis and or frozen in severe frosts are something of legends! Graded by how shrivelled the grapes are and the sugar content of their juices these wines can age for hundreds of years and fetch eye-watering prices.
In Central Otago you will not often find the immense sweet wines but you will certainly find wines that have a fair bit of sweetness albeit on a much more delicate palate of green grasses and citrus.