New Zealand has always been a beer drinking nation – rugby and beer! In fact, more so than wine which really only came prominence in the mid 1980s. When Captain Cook arrived in 1770 he even brewed beer from local Rimu tree branches as a means to ward off scurvy amongst his crew. The history of New Zealand beer is very interesting but in the interests of brevity the most important element was the development of a style called New Zealand Draught beer, a malty, lightly hopped amber lager between 4% – 5% abv and sold under such brands as Brown, Red, Green, and Double Brown. Drunk alongside the imported beers such as Heineken and Stella Artios and regional beers such as Canterbury Draught and Waikato Draught, these were the staple diet for most beers drinkers around the country.
Production was pretty much dominated by two massive corporates: Lion Breweries and Dominion Breweries. It was not until 1981 that Mac's Ale became the first modern boutique or microbrewery beer, brewed in Nelson, at the top of the South Island. Today, elsewhere in the world, the Craft Beer revolution is thunderous and it is Nelson and Wellington, straight across the Cook Strait, that compete for the title of Capital of the New Zealand Craft Beer scene.
The craft or premium beer industry in New Zealand is extremely varied and very progressive. If you are interested in beer then on your Twilight Wine and Craft Beer Tour with Altitude Tours you will find a huge array of interesting concoctions being brewed with everything from coffee to seaweed and more!
WHY IS NEW ZEALAND CRAFT BEER SO GOOD?
Knowing a bit about New Zealand wine and how well vines grow here it probably does not surprise you that hops also love the New Zealand climate. It is equally no surprise that the first craft beer was brewed in Nelson when you find out that the Nelson region (and in particular Motueka) is home to some of the world's finest hop growing conditions. Lots of sunshine on beautifully fertile lands.
Just like describing a wine, New Zealand hops are described as having "massive tropical fruits, mangoes, pineapples, passionfruit, lots of lime, a bit of Kiwifruit (of course) and melon". In fact, the Nelson Sauvin hop variation is often described in similar grassy notes as the nearby famous Sauvignon Blanc from Nelson and Marlborough regions.
And it is not just Kiwi craft brewers that make the most of these delicious hops, craft brewing giant BrewDog from Scotland make their flagship Punk IPA from our hops and in the US well-known brands such as Sam Adams, Sierra Nevada, Anchor and Anchorage Brewing also power their brews with Nelson hops. So much so, that in 2012 and 2013 when there was a shortage of hops in the US it was poor little New Zealand that was raided, simultaneously making our hops and beers world famous and cutting off the supply chain for local brewers.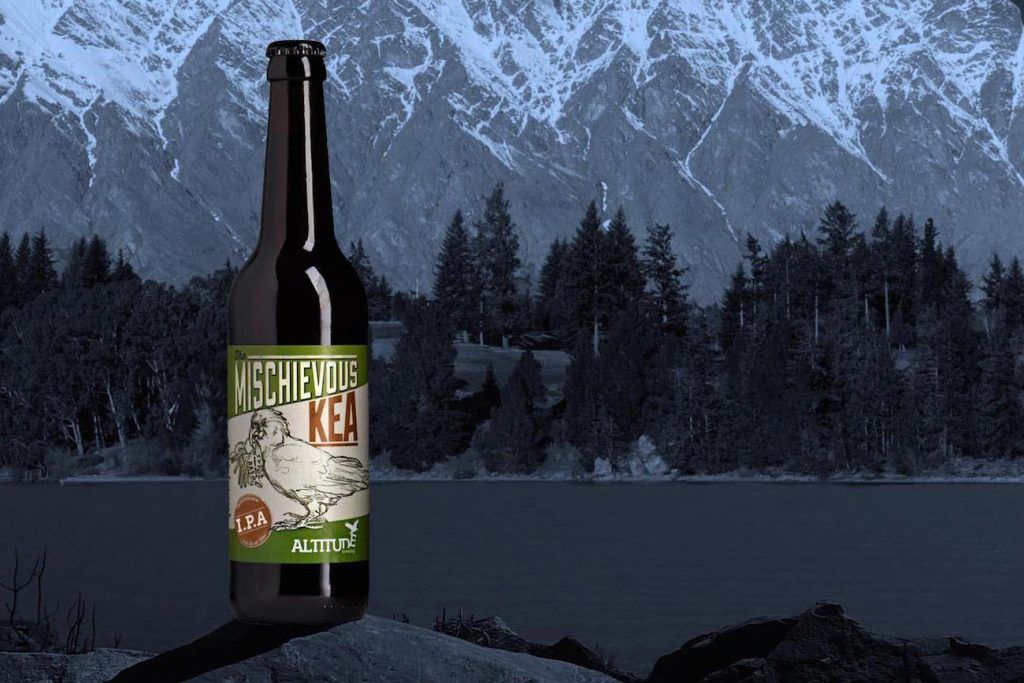 LOCAL BREWS TO LOOK OUT FOR.
While Queenstown is nowhere near competing for the Craft Beer Capital title there has been a meteoric increase the number of breweries with at least ten sprouting up in the region in the last few years plus a raft of bars offering large ranges of local craft beers. Generally speaking there are two ways to taste Craft Beer, at a Brewpub being a pub that specialised in a particular few brands which they always stock or at a Craft Beer Pub which will usually have a large number of taps with an ever rotating list of beers. These are the most exciting as to quote Forrest Gump "… like a box of chocolates, you never know what you are going to get." The Fork n Tap Pub in Arrowtown is a Craft Beer Pub with 12 ever changing beers on tap.
Having a little bit of knowledge slotted in your back pocket will help you be on the look out for some of the better local drops when your eyes glaze over at that array of taps with brightly coloured labels which are all absolutely meaningless to you. Here is a few of our picks to look out for:
Altitude Brewing: We put this at the top of the list simply because of the name! No relation to us, their deeply embedded relationship to the local Queenstown region shines through with aptly named beers such as the Mischievous Kea, Goldpanners Profit, and the Moonlight Track. These are great beers made locally.
B.Effect: From Wanaka you will regularly see a B.Effect beer featured at the Fork n Tap. Using wine yeasts their beers have a definitively Central Otago uniqueness.
Wanaka Beerworks: Wanaka Beerworks are the most established brewers in the region with the range being produced since 1998 and they might be described as more traditional in style. In 2013 Beerworks launched their Jabberwocky range from the small town of Clyde and these are far more experimental and definitely worth exploring if you come across one.
Queenstown Brewers: Queenstown Brewers stand out in their use of only locally grown malt and hops for good or for bad. Try their flagship Steam Brew if you get a chance.
Killarabbit from Bannockburn Brewing Co: The Killarabbit Double IPA is the only beer produced by the Bannockburn Brewing Company and she is a beauty. It is unfined and unfiltered (so cloudy) and barrel fermented and the bitter citrus tastes are a treat!
Not from the region but worth a taste: Emersons from Dunedin has a great range of beers and is always worth a good debate with Craft Beer enthusiasts since their sale about 5 years ago to corporate Lion Breweries (if you are corporate can you be craft?); and in a similar vein Moa Beers are another Craft Beer company that has grown to be huge not only in New Zealand but internationally. Regardless of their success, however, their roots in Nelson come through with the typical hoppy local flavours your would expect from a craft beer and they are one of our favourites; and finally if you are looking for something completely off the planet keep your eyes out for Garage Project beers who make an ever changing array of weird and wonderful concoctions containing the most bizarre ingredients – their Oyster and Horopito Black Stout is made with – you guessed it, oysters.
My mum told me not drink craft beer cos it contains marijuana? Ha ha, well there is an interesting fact for pub trivia. Yes, the hop plant is in fact a cousin of the marijuana plant. Would the latter make a very good beer – worth a crack mate!